15 Best Coworking Spaces in London
London is the city of opportunities in England. Whatever you wish to do and dream of doing, you can do in London. But with will comes the need to have a healthy environment where one can come up with the best business ideas. Thankfully, coworking space London is one thing the city doesn't lack. Central, East, West, North London, there's a coworking space in each of these parts. They are modern, functional, and feature high-tech equipment.
But why does one need coworking spaces London? Well, a coworking space is much like an office. Your company might have asked you to work remotely, or you're a self-employed person and you would normally work from home. In that case, having a coliving coworking London space or just simply coworking London space can be beneficial for you and the business you're trying to build.
15 Best Coworking Spaces in London
London is amazing. There's no doubt about that. You can do day trips from London, go out to party, discover museums and so on. On the other hand, you might be completely new to London and you're wondering what to do and where to work. You could work in your hotel or Airbnb, but why not take advantage of a coworking space London day pass. Plenty of these spaces below do that. Let's get on with our list of best coworking spaces London.
1. Soho Works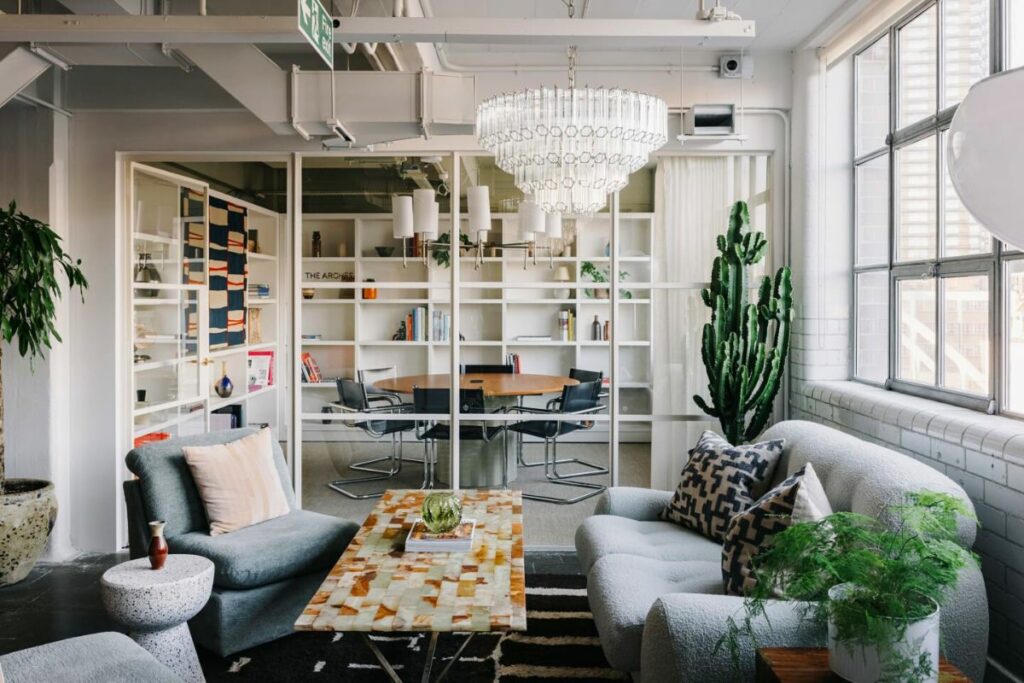 Let's start with a creative coworking space London. Soho Works offers working space for professionals who want to get away from their homes and get in the right mindset within an amazing office. If you're looking for a coworking space East London, they have one and it's called Shoreditch Works. But if you're looking for coworking space west London then visit the White City one from Soho Works.
This isn't just for solo people, it's also perfect for groups, businesses, and friends. You would have to take out a membership to join them. There are three types of memberships. Firstly, the lounge allows you to rent a space that gives you flexibility so you can move around. Secondly, you can get your own desk with lockable storage that will only be used by you. Finally, rent out lofts for teams that are available both monthly and daily.
In your membership, a great number of things are included. They hold events and workshops to which you will have access too. Or private phone boots, photo studios, workshops, and 3D printing. Soho Works also has podcast equipment, screening rooms, meeting rooms, and conference rooms. Let's not forget the kitchen, we all need to hydrate and fuel. These are the best coworking spaces London. They are well-organized, well-decorated office spaces to get you feeling productive and ready to take on the day.
2. Spaces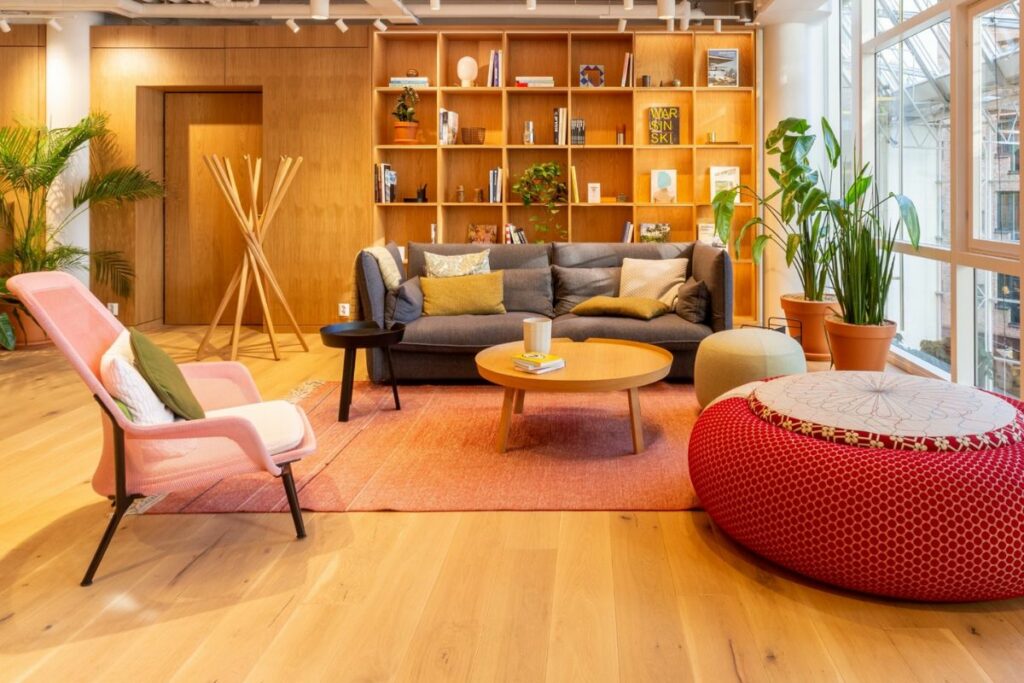 Spaces is a really cool coworking space London. But it's not just one, there are 24 Spaces in London! That is insane. I saw one on my walk in the streets of London and they look amazing. I will not include the whole list here, however, they have in the city center, west London, south London, and so on. So once you have found your space, you can select the membership. Each location has a different price and some even have offices available.
As with Soho Works, you can rent a whole office for your team. You can set it up in any way you desire, gaining full access to the Business Club. You can also choose from a coworking membership, which means that you'll be able to make new connections. A dedicated desk can be a life savior when you love working alone. You'll share the room with other members, however, you have your own desk, cupboard, and locker. Did I mention they also have 24-hour access? Yes, you heard that right. In case you're a night owl, you can work whenever you want to.
The cool thing about Spaces is that it offers you a virtual office. What does that mean? Well, instead of having a physical office, they create telephone answering services for you, as well as a professional address. But if you do need office space, the Virtual Office Plus will allow you to have your own private office or desk 5 days a month. So you might not get a coworking space London day pass, but this gets really close to it.
3. Headspace Group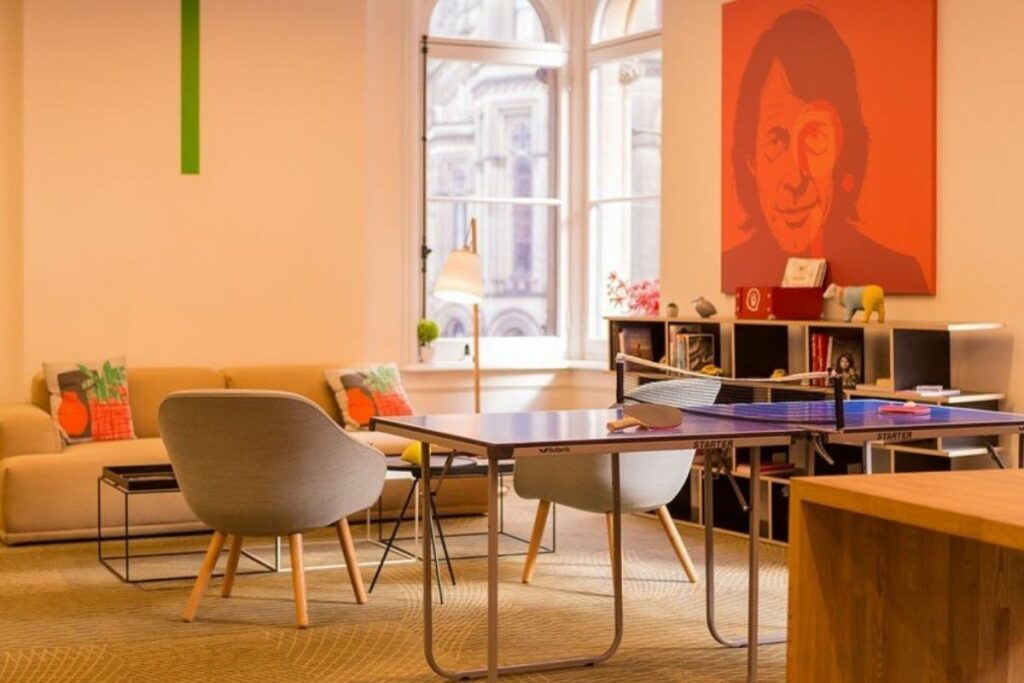 Not to be mixed with the Headspace app, the Headspace Group is a creative coworking space London for like-minded individuals. It's also excellent as a startup coworking space London. Do you have a startup? No worries, Headspace offices will get you on the right track. This location is easy to remember. They are in Farringdon London and offer different services.
Now, this coworking space London is slightly smaller than the previous two. They have glass walls that are private. A fully stocked kitchen so you are fuelled throughout the day. Headspace offers 6 meeting rooms and can hold up to 70 people. There are two types of memberships. Either a private office or coworking space.
Some of the facilities include shower rooms, free breakfast five days a week, and access to the Elizabeth line which takes you to any part of London easily. The offices are fully furnished with high-speed internet. There are also possibilities to get discounts on meeting rooms as well as members discounts.
4. Workspace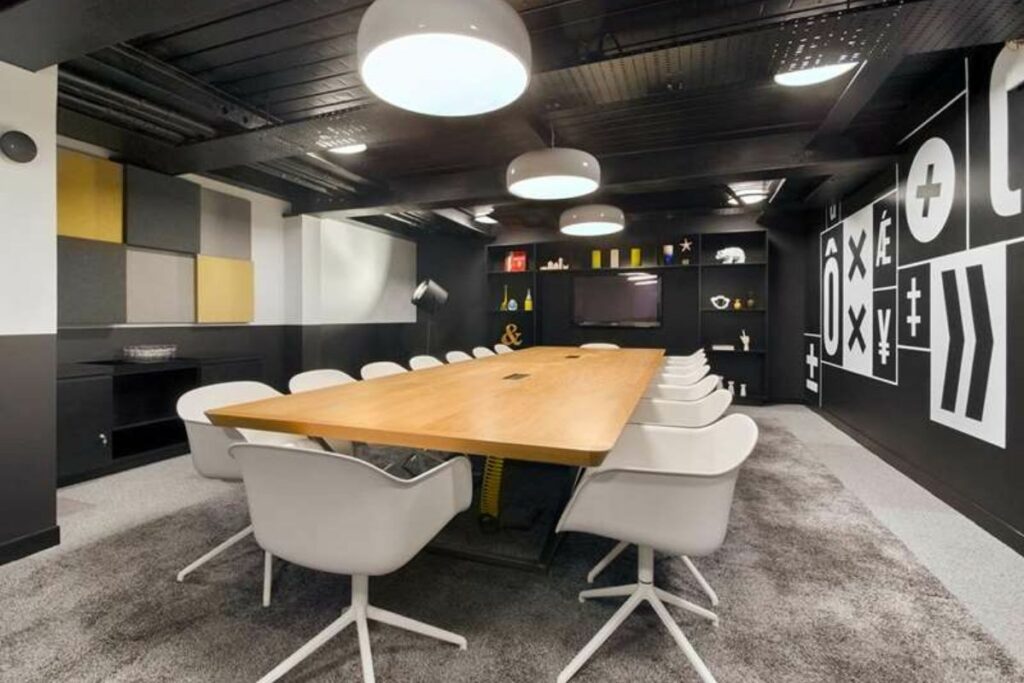 Workspace is the next best coworking space London, they have over 60 locations in London and the coolest office spaces. If you do not feel motivated to work here, I don't know where you will. Coworking London has never been easier. With locations in central, north, east, southeast, southwest, west, and central London, choose one and start working in a productive environment. Good news for you, this is also a coworking space London day pass, so you do not have to commit to buying a whole month.
Workspace facilities offices, workshops, studios, event spaces, and many more. In case you also want to throw in a good workout, Workspace on Fleet Street is a coworking space with gym London. How cool is that? You can also shower after your workout and go back to your desk feeling refreshed. Whichever Workspace location you choose, you will not be disappointed with the services and possibilities.
5. Lydian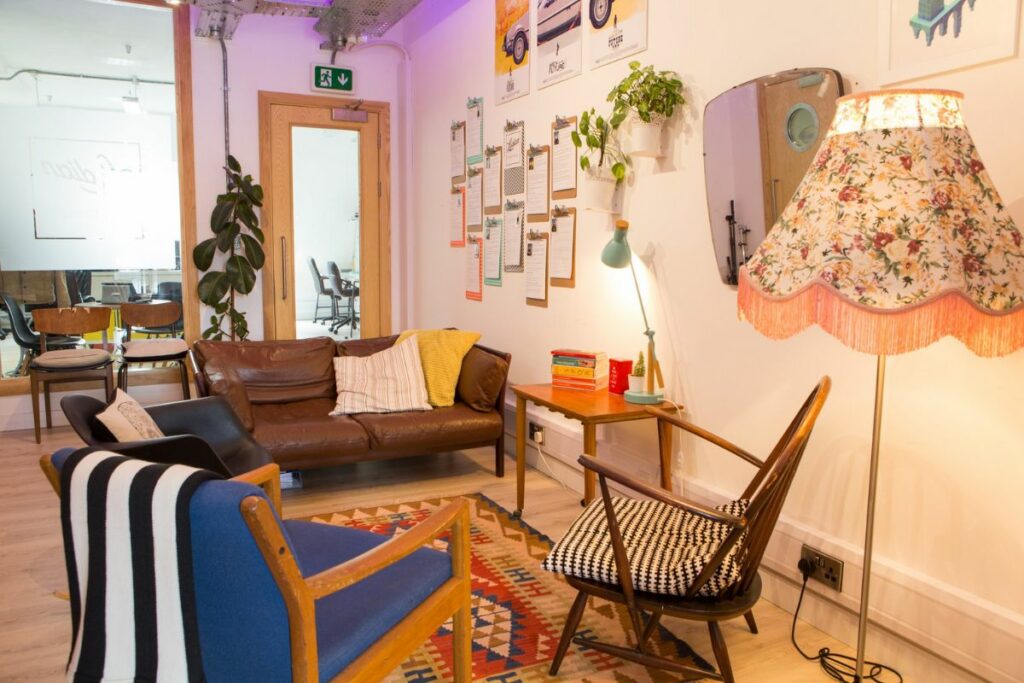 Next up we have a coworking space North London that is called Lydian. Now Lydian is very affordable and it comes with a lot of perks. We could not find a possibility for coworking space London day pass at Lydian, but if you enquire directly from them, they might have a solution. Lydian calls themselves a boutique workspace as well as a creative coworking space London. Here you'll meet musicians, creative freelancers, and self-employed people who are looking to connect and work hard.
Do you love working during the night? No worries, Lydian is available 24/7 all year round. It also offers fixed desks, storage cupboards, complimentary tea & coffee, and even a ping pong table. What if you have a pet at home and cannot leave him/her with anyone? Lydian is also pet friendly so take your doggie to work. You might give some happy hormones to others by letting them pet your dog.
6. Techspace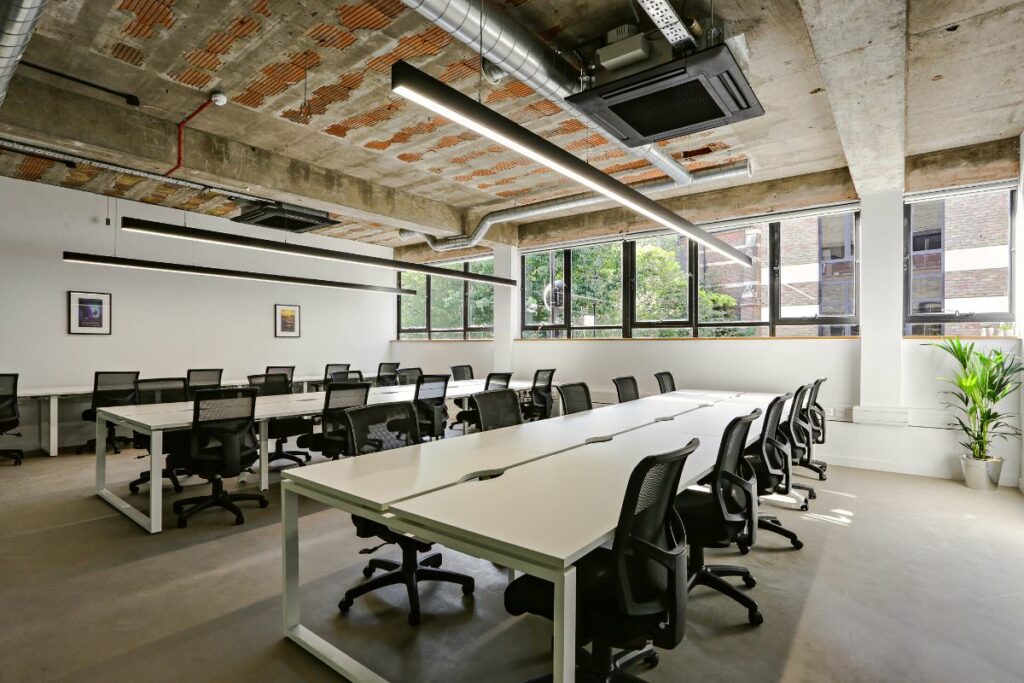 Techspace is another great coworking space East London but with locations in other parts of London. The coworking East London space is called Aldgate East, and others are in Shoreditch, Shoreditch South, and Whitechapel. Now that we are familiar with the location, let's see what they have to offer. As the name suggests, these spaces are for tech companies. "A down-to-earth environment for fast-growth tech companies". They promise to deliver the best IT infrastructure there is and can be further tailored to business needs.
The space is decorated in a way that allows creators to be creative, overcome obstacles and have a safe space where they can come up with innovative ideas. So once you have decided which location you want to go to, you're ready to move in. Techspace will customize your office so you feel "at home" from day one.
You'll have access to dedicated meeting rooms, add your own furniture, and logos, and even have a whole floor just to yourself. There's also bike storage available, as well as 24/7 building access. Other perks include fresh coffee, daily cleaning, fully stocked kitchen. Moreover, dogs are welcome in these spaces!
7. Co-Work London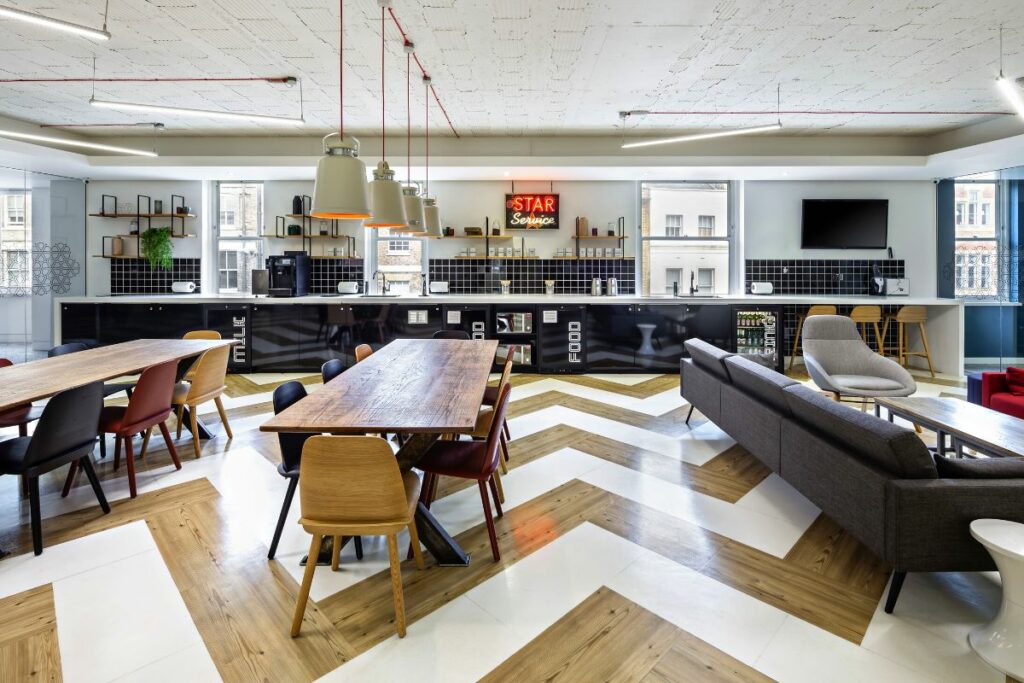 We're bringing another great coworking space London option, that is co-work. These are ideal for entrepreneurs, start-ups, and small businesses. There are a few locations throughout the city, including coworking space London Bridge. Co-Work Borough is the one that is literally 5 minutes away from the London Bridge and you have direct access to mainline rail, Northern and Jubilee lines.
The good thing with co-work is that they will include everything in the price. Sometimes companies might charge you more if you use other services, however, co-work has fixed memberships. There is no possibility to buy daily passes, and the minimum term is just one month.
In the Co-Work Borough facility, you'll get a dedicated desk with a comfortable chair. Personal storage unit which is part of the desk. You'll also get a dedicated line of broadband and wifi plus a ready-to-use VoIP phone. Besides all of these perks, you get access to meeting rooms with video and conference facilities and the option to use printers and scanners. Coffee and tea are on the house.
8. Greenhouse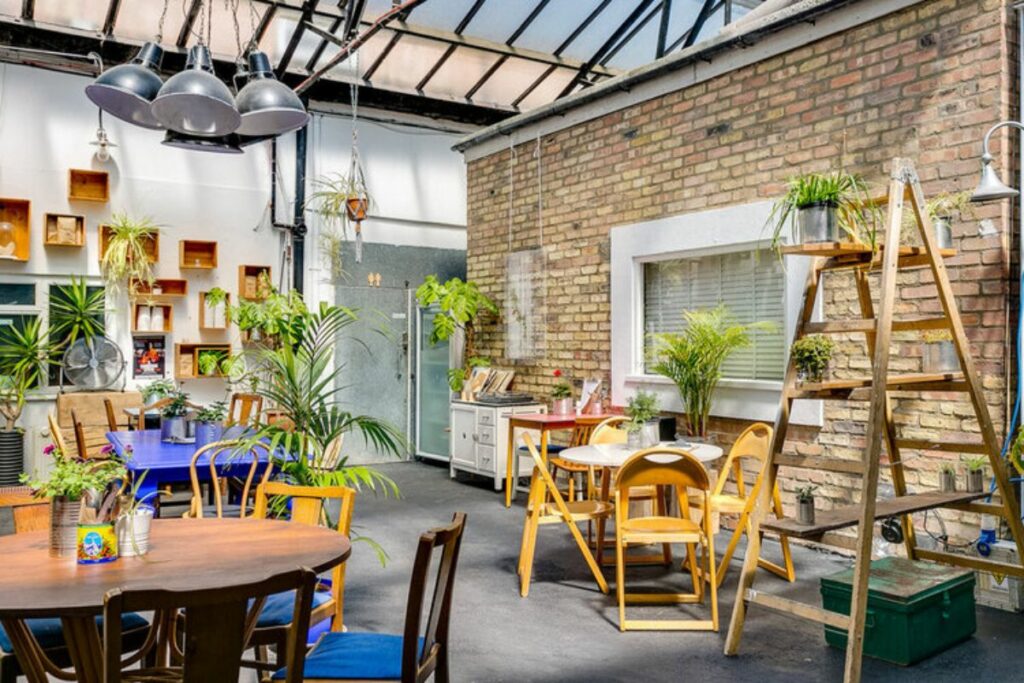 In case you're looking for a coworking space North London, I can totally recommend Greenhouse. Well, it's not just north London, there are also a few in east London. The Greenhouse N16 even has a Yoga studio. Let's not jump ahead. What is in their memberships? As we saw with previous spaces, Greenhouse offers a fully equipped desk with lockable storage.
You can also hire an entire office. Think of this as a creative space for entrepreneurs or for anyone who wishes to have a beautiful-looking space for videos. You can hire Greenhouse rooms by the hour for meetings, yoga classes, photoshoots, and workshops. You're already working in the building? Why not check when is the next Yoga class and sign up for it. It's a great space!
9. The Collective Old Oak
Sometimes traveling to an office might not seem like the best idea. Do you wish it was closer to your home? Have you thought about coliving coworking London? Well, there's one company that does that. The Collective is a company that offers both offices to work in but also studio apartments or en-suites with a shared kitchenette.
There are two main locations in London. One is the Old Oak which is suitable for long stays and the other is Canary Wharf where they offer short stays too. What this means is that you can also book these for 3,6 or 12 months. The whole idea of coliving coworking London is to build connections, be around people and be amazing at your job.
When you rent out a space here, you'll have everything included in the bill. That means 24/7 reception, coworking spaces, gym, laundry room as well as room cleaning. What's the best is all the cultural events. It's definitely worth trying for a few months and meeting a lot of people!
10. Huckletree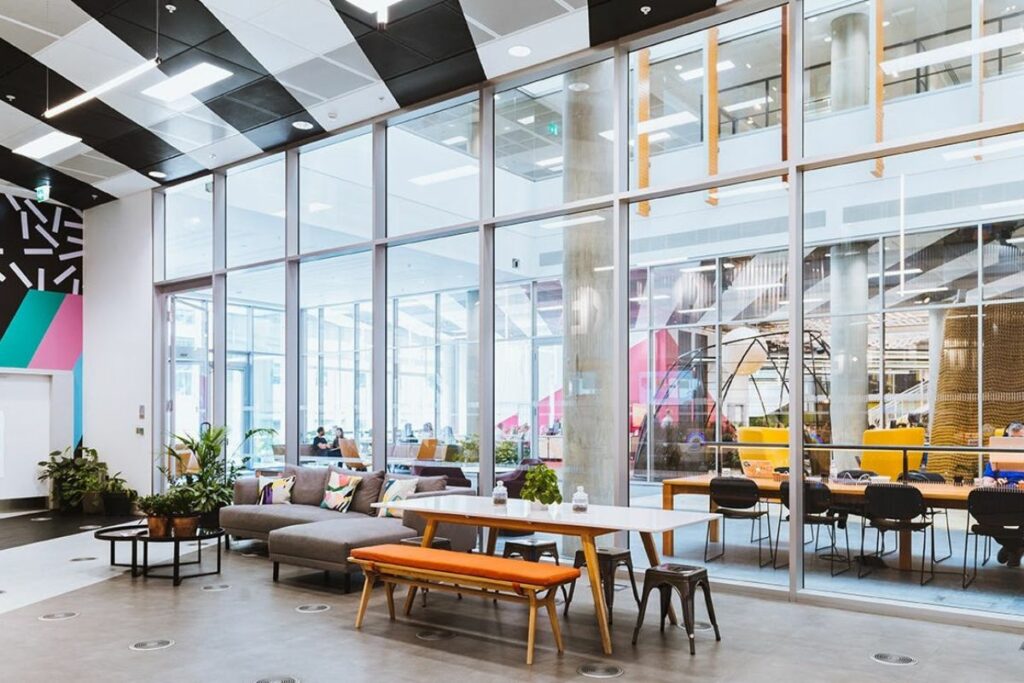 Huckletree is for the creative minds. So if you've been looking for a creative coworking space London, Huckletree is the best option. First of all, there are 4 locations. Shoreditch, Soho, Westminster, and White City. It's great to have coworking space West London options. But the versatility doesn't stop here. There are 5 different memberships. Private studio, resident desk, floating, light, and day pass.
The resident desk means you're paying for a private desk with an open plan which has your name on it. Floating means you get to access the hotdesking zone and switch up your place. For 10 days a month only get the light membership and go in when you like. Then of course you can pre-pay day passes and go in whenever you feel like without commitment. You can also rent out amazing meeting rooms.
In Shoreditch for example, you'll have access to a classroom full of workshops and pitch sessions. The auditorium, curiosity couches to catch up with people, a full-on library as well as phone booths. And the vibe of this place is really amazing, so much creativity and room for growth when you work here.
11. WeWork Office Space & Coworking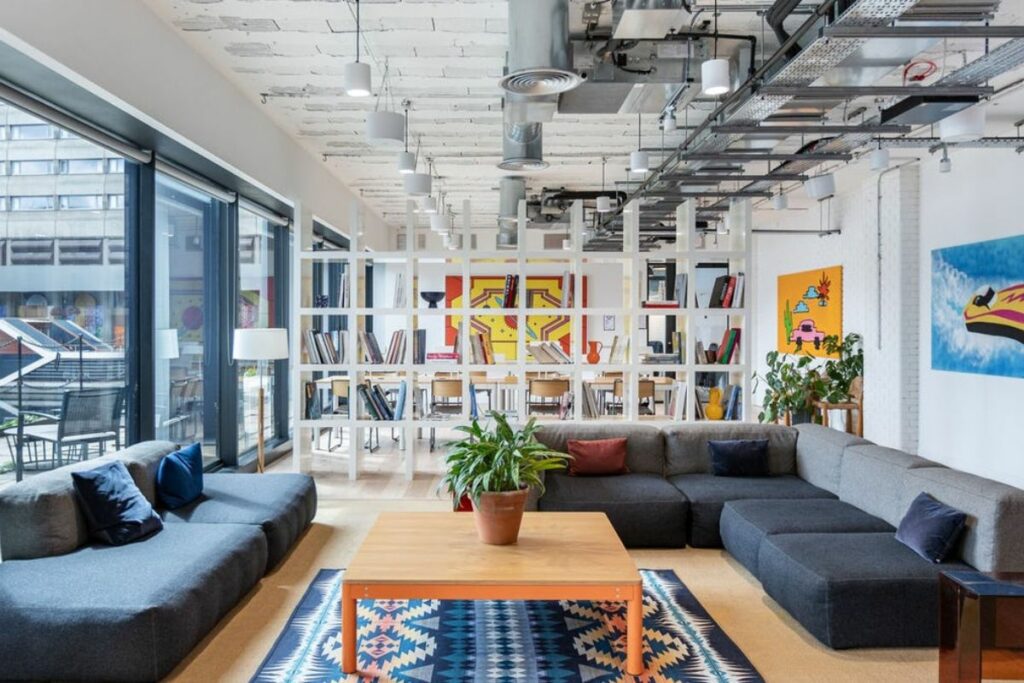 Continuing our list of coworking London, WeWork is a beautiful option if you want to work in a productive environment with gorgeously decorated offices. They have around 50 WeWork buildings! Finding one should be easy enough. Shoreditch, Moorgate, Tower Bridge, Tower Hill, Liverpool street, you name it. All of these locations have great perks.
For example, the one in Paddington offers private offices, dedicated desks, hot desks with monthly and daily memberships as well as meeting rooms. The amenities include cleaning services, a mother's room, a wellness room, showers, a cafe, conference rooms and more.
They are pretty much set up the same way, some might have more amenities, some less. While other coworking spaces have different prices depending on the location. So it all comes down to personal preference and of course based on where you live. Another cool feature about WeWork is that you can view their inventory of space on the website. If private desks are already booked, it will show as empty on the screen.
12. Easy Offices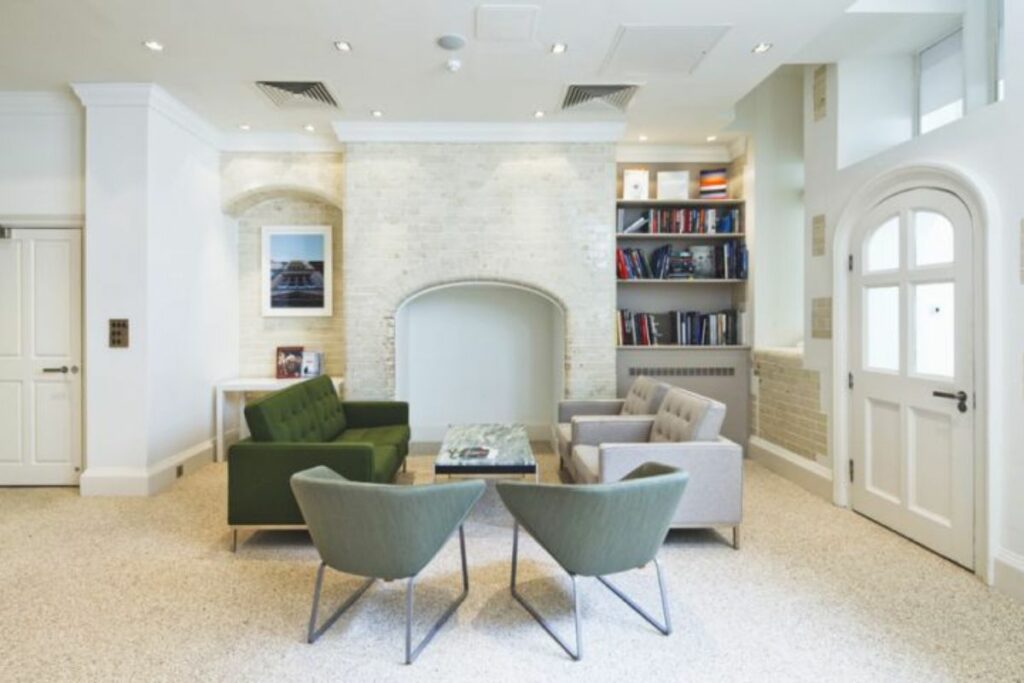 Another great company to choose is Easy Offices. These office spaces are top tier, so well-organized, spacious, and created with working professionals in mind. It's one of the best coworking London spaces out there. They have offices all over the country, but if you narrow it down to London the search gives you 134 results. Think of Mayfair, Soho, Marylebone, St James, and other famous parts of London. It's crazy how many offices are created just so you can give your best when working.
So the spaces can be different based on the location, however, they are catered towards start-ups as well as big or small companies. Some of the amenities include parking, showers, meeting rooms, and even gym. Finding a coworking space with gym London is like a goldmine. The price does change from location to location. For example, office space in Stratton Street Mayfair starts from $860 while one on queen street can be roughly $600.
13. Regus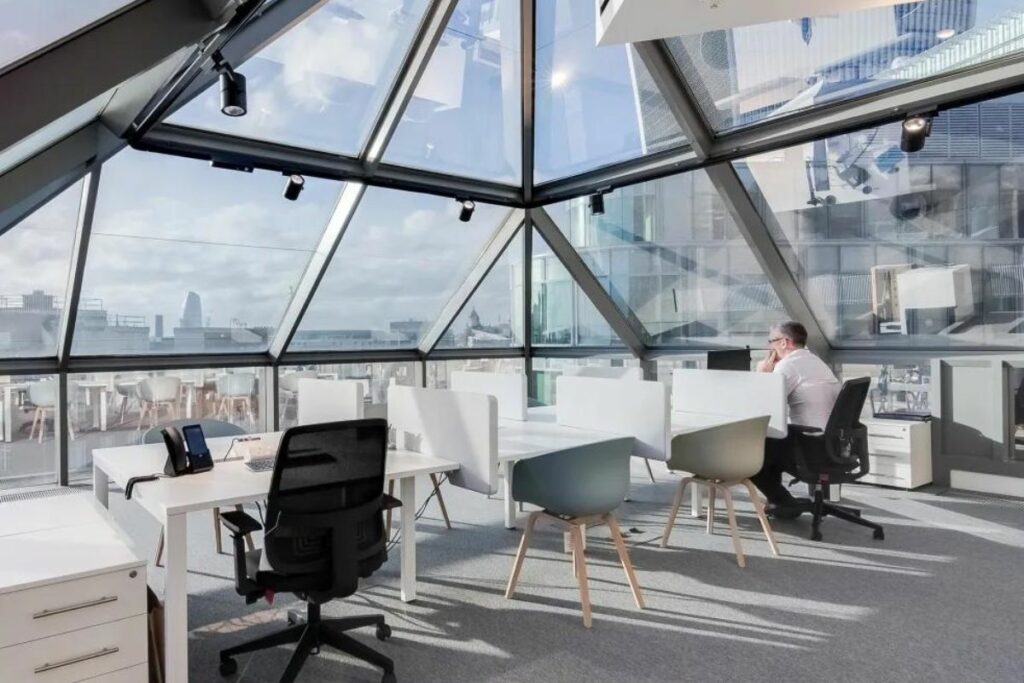 Regus is a huge company known for its worldwide office spaces. They are all over the world, nearly in every country and within several cities. Even in those cities, you'll find several locations. So if you're looking for the best coworking London spaces, check out Regus. Regus offers office space, meeting rooms, coworking space, virtual offices, and even workplace recovery.
Workplace recovery means in case something happens to your usual office space, Regus will help you set up a new one for you and your team/clients. Regus is also famous for its coworking space London. You can choose from different memberships. Whether you wish to work in an open-plan space, shared office, or a quiet little corner, they will have everything ready for you.
Not only that, but by joining Regus, you get access to their global business lounge network. The awesome thing about these types of coworking spaces is the ability to connect with like-minded individuals. In London you have about 93 locations available just for the purpose of coworking!
14. Landmark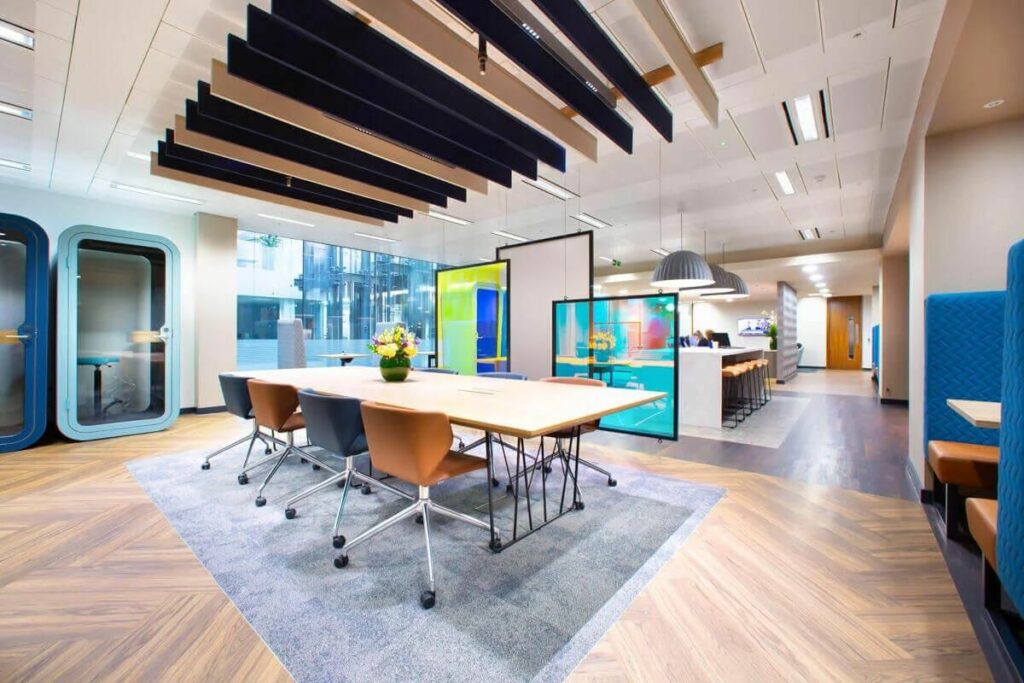 Landmark is one of the best coworking spaces London has to offer. They have plenty of locations throughout London. Canary Wharf, central London, London Bridge, and even East and North London. Landmark offers private offices, meeting rooms, club space, virtual offices, and even a private floor.
Landmark is especially useful to companies. You get to choose and cater to your office based on your team and what you want them to achieve. It's no wonder there are so many offices in London and why it's the city of opportunities. It's just amazing what can one achieve if they are in the right environment, dressing up, and working with high-tech.
The pricing is also quite amazing for Landmark. While other offices can be a few hundred dollars, this one is just $250/month. Prices will change based on the location, but if you pay in advance it might be worth it. You'll have access to a social zone, collaborative zone, private coworking zone as well as meeting one.
15. Central Working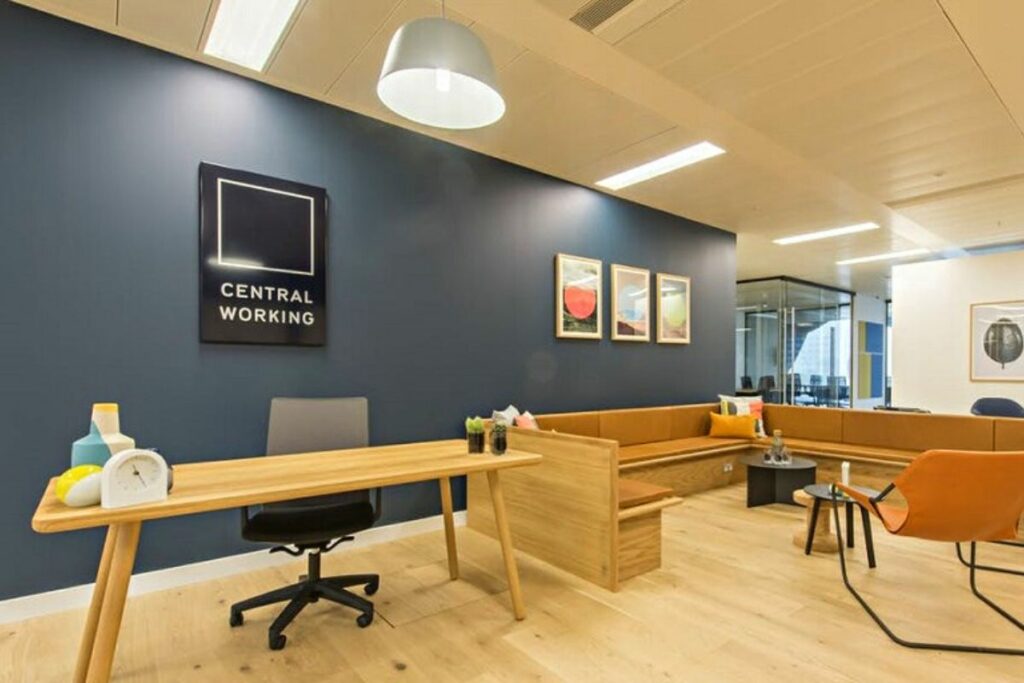 Lastly, the best coworking office space in London. According to their website, they only have one office in London which is called White City. They partnered up with Imperial College Think Space to bring these offices to you. Central Working says "Your business is more than just a job, and Central Working is more than just an office." We couldn't agree more.
All you have to do is build your space, select the best furniture, and choose how you want to work on a daily basis and Central Working will take care of everything else. The amenities include meeting rooms, break rooms, shared workspace, a large cafeteria, kitchen facilities, showers, and even bike storage.
You get to choose from 3 different types of memberships. One is a drop-in, so you do not have to commit to a private desk. There's a resident membership offering you a private desk of your own. Lastly, private offices for up to 50 people. There's also a fitness center right in front of Central Working. You have everything in one place!
Wrapping up the best coworking London – Coworking Office Space in London
Here we have all of the best coworking spaces London has to offer. Each of these companies has multiple different buildings throughout the city and they offer the same services. Coworking, meeting rooms, workshops, coffee, and food, some even gyms and showers. As an entrepreneur, creator, artist or even a start-up having a great work space will determine the type of work you do. Let us know if you've tried any of these spaces!
Pin it: 15 Best Coworking Spaces in London