10 Best Coworking Spaces in Manhattan New York City
Working remotely, being a digital nomad, a freelancer, a blogger, or an entrepreneur is the new fancy! We love the freedom we get by getting to be our own bosses, make our own schedules, and work from where we want. Well, when it comes to NYC coworking space in this matter, we've got quite a few hotspots for you. For that reason, we decided to cover only a smaller piece of this big forest of coworking space in NYC, and we are going to talk only about coworking space Manhattan. Now, if you're looking for a coworking space because you live in New York, this isn't going to be new for you, but for those who are here because they will also travel to New York for the first time, we must highlight it! Manhattan on its own is big enough to find not 10, but at least three times more coworking spaces and coffee shops, so we must divide the topic!
10 Best Coworking Space in Manhattan – best coworking spaces NYC
When it comes to the topic of coworking space in Manhattan, we've been trying to look for not only those that are more affordable but also the type of coworking space NYC which has a vibe. If you walk into a place that looks like your last 9 to 5 job, what's the point of even leaving the house, right? Also, if you're working online/remotely and you're visiting Manhattan for the first time, make sure you're booking the right accommodation as well, and then, pick a coworking space for your taste.
Of course, we are still coworking office space Manhattan area, but the vibes were also considered while picking them. You'll find below some of the nicest places if you're looking for coworking space in NYC, and we're highlighting specific areas too such as coworking space in lower Manhattan. And since we are discussing a topic that's related to those who are working in the digital world, make sure you check our related posts too! We've got some interesting details here about entrepreneurship, boss books, and even bossy Netflix movies.
1. The Farm Soho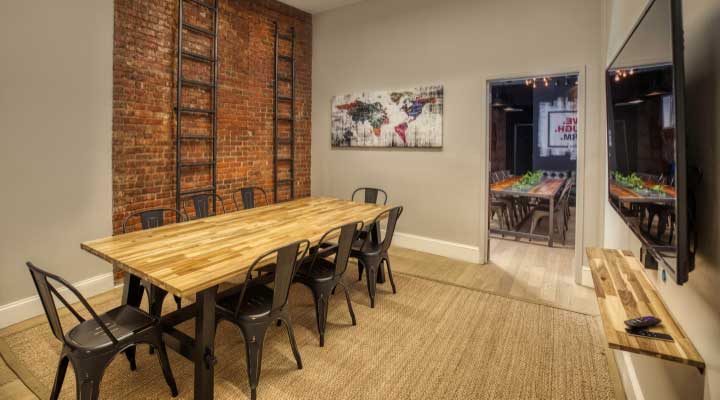 When it comes to the right coworking space Mahattan, our first pick is the Farm Soho. Now, The Farm Soho is listed as the best coworking space NYC offers, not only on our website but many others! At The Farm Soho, you'll find affordable membership offers as well as a nice environment where you can confidently work on your projects.
Inside The Farm Soho, you'll find wooden furniture, brick walls, and an abundance of natural light that create the perfect environment for our creative minds and freelancing gigs. On top of this, the coworking space features a nap room as well as TreeHouse Hideaway, which we love! At The Farm Soho, there's also conference and event space if you need that, and on top of all, you're offered a flexible membership fee structure!
Membership: At Farm Soho, you'll have a day pass for $29, while Hot Desk is available at $179/month and a dedicated desk at $379/month. From there, you can get a membership for 3 months, or get a private office or a full-floor office for specific prices. If you're looking for the best coworking space lower Manhattan, The Farm Soho is your place to go!
Address: 447 Broadway 2nd floor, NY, 10013, United States
2. Workville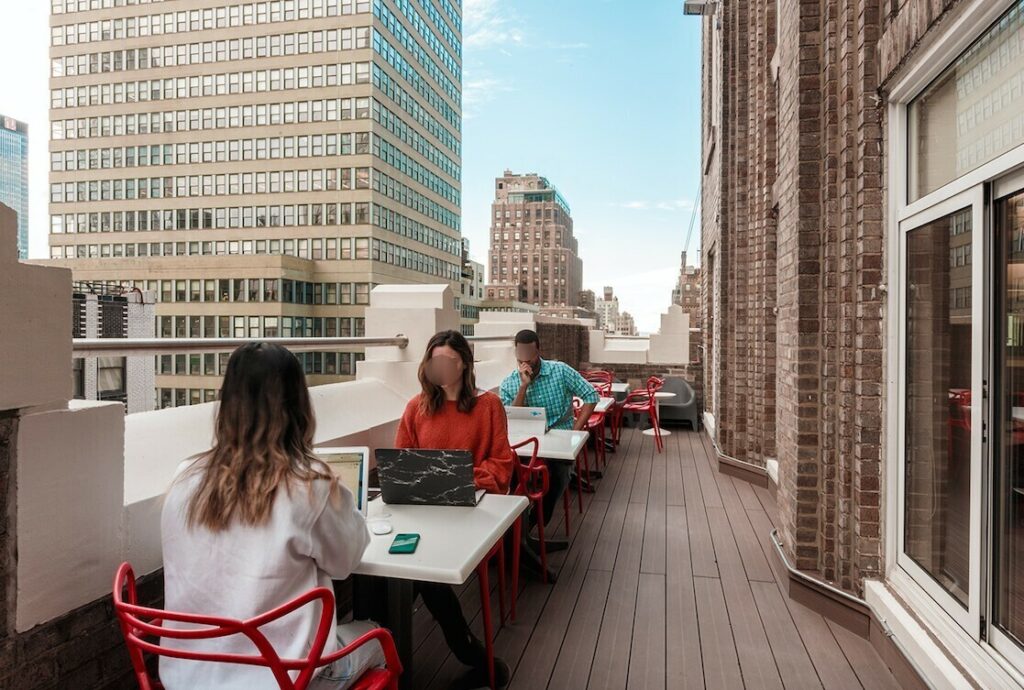 Another great coworking space NYC is definitely Workville! If you're looking for coworking Manhattan hosts, this one is great if you're looking specifically for coworking space lower Manhattan. Workville is very close to Times Square, and all NYC subways basically. An ideal place for everyone looking for a more office-vibe place.
Workville is known to be the best place for startups in Manhattan, and they assist remote workers and freelancers the best way they can. At this spot, you'll find a very collaborative environment of professionals, so it's also great to make connections. At Workville there are open desk, spacious offices, and a private terrace which is also good for events.
This co-workspace was praised by the Manhattan Award Program, Buzzfeed, VentureFizz, and also TravelMag! Those who need coworking office space Manhattan should definitely try Workville too, before buying a membership anywhere! On top of all this, full-floor offices are the newest additions which are great for teams of 8 to 25. The day pass is a bit more pricy than The Farm Soho, it's $49, while monthly fees vary from $350 to $750.
Address: 1412 Broadway 21st Floor, New York, NY 10018, United States
3. WeWork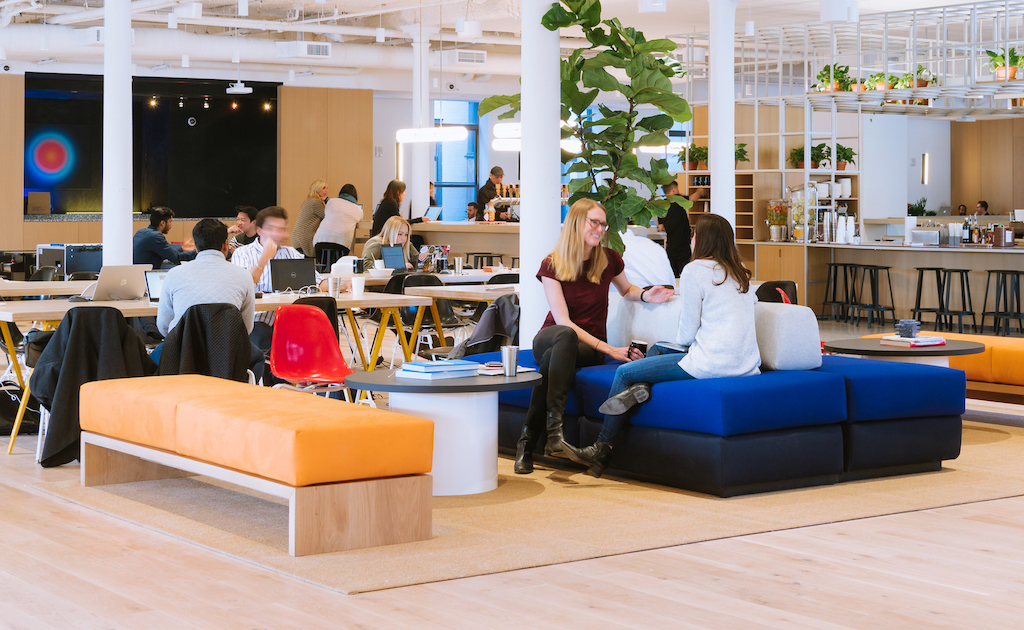 WeWork is another great coworking space Manhattan hosts. They actually operate in multiple locations around the world, and it's actually one of the best, we-established coworking spaces. If you're looking for a great coworking space New York uptown, WeWork is located in Harlem, so it would be convenient if you live/stay in the area.
At WeWork, you'll get phone booths, obviously internet, 24/7 access, conference rooms, printing service, cleaning, fruit-infused water, and even bike storage. WeWork provides open spaces and offices for remote workers, entrepreneurs, and influencers, but they also have space for full-sized companies. Also, they don't have coworking space only in Harlem, but they've got 10 locations around Manhattan!
Address: Harlem – 8 W 126th St, East Midtown – 450 Lexington Ave.
4. Neuehouse Madison Square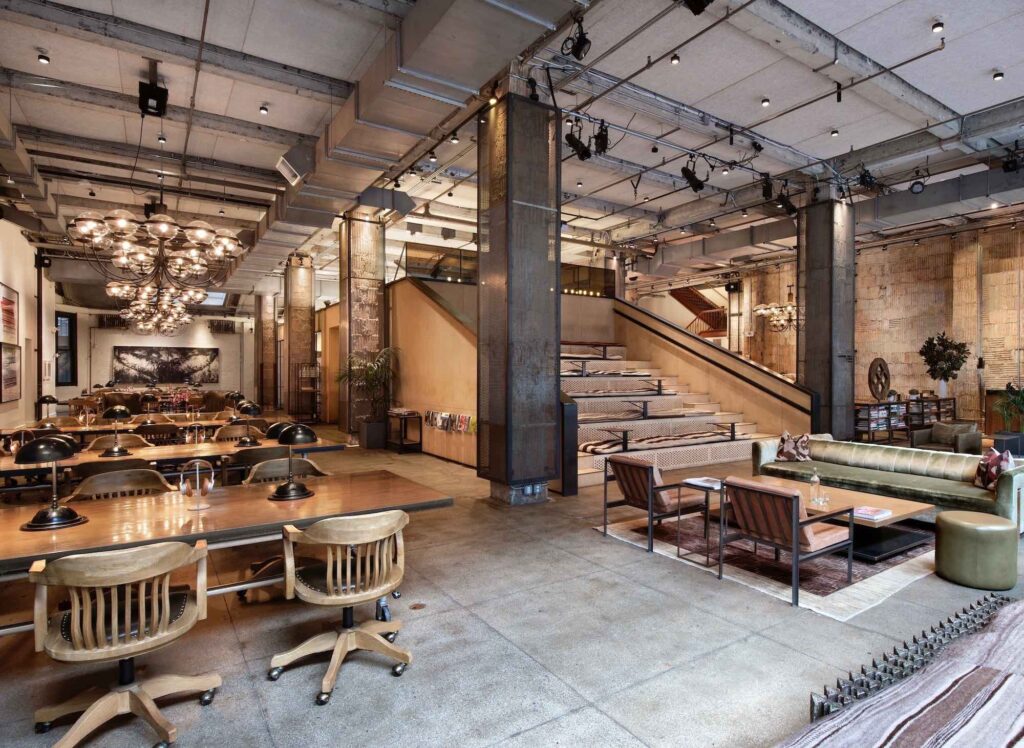 Our next coworking space NYC is Neuehouse at Madison Square. For those searching for coworking Manhattan and who love warm and beautiful interiors and prefer a coworking space Midtown Manhattan, this will be a nice choice! At Neuehouse you'll find creatives, and artistic professionals like fine arts, architecture, fashion, design, and filmmaking too.
The coworking space occupies 5 floors and they provide printing and meeting rooms, as well as you can pick memberships that include luxurious services. These services include happy hour, cultural programming, artisan roasted coffee, Linus bikes, art exhibitions, in-house production service, and noise-canceling headphones too.
With the premium membership, you can access the screening room as well, as you can take part in programs that allow artists to form a creative ecosystem. Neuehouse is definitely our favorite coworking office space Manhattan hosts when it comes to services, vibes, members, and interior design as well. Plus, the location is perfect! At Neuehouse the monthly fee starts around $595, and you can also get a private studio for $4500.
Address:110 E 25th St, New York, NY 10010
5. Green Desk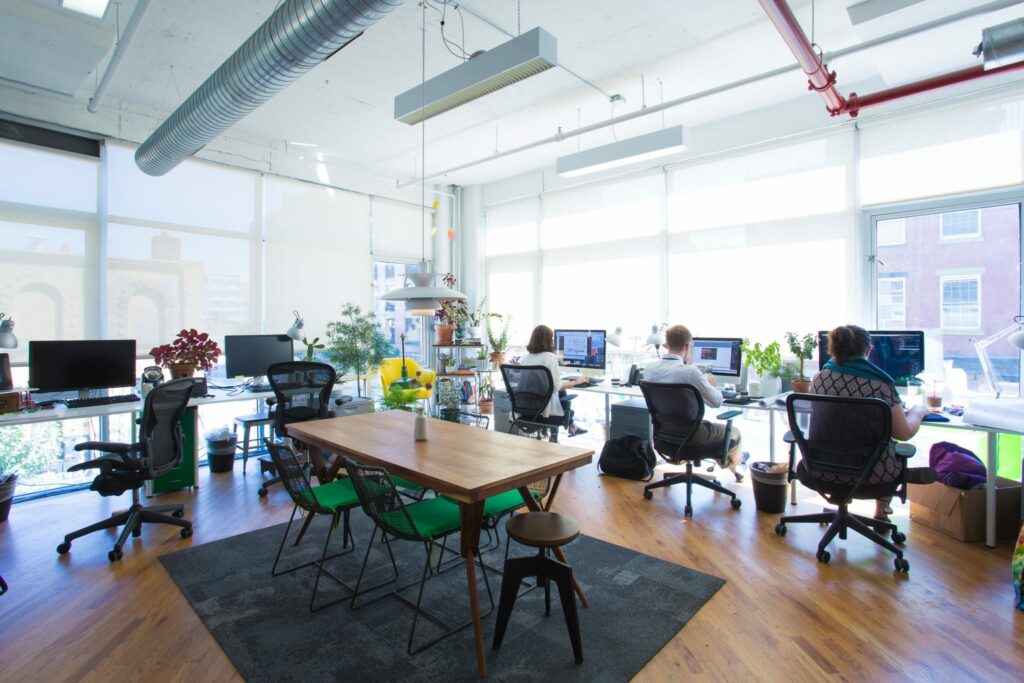 Green Desk is another great coworking space New York City offers, and this time not in Manhattan specifically. When you're looking for the best coworking spaces NYC offers, and you're dedicated to sustainability, you should definitely consider Green Desk. They have 10 locations for their coworking office space manhattan excluded though. You can find them in Brooklyn and Long Island City.
Green Desk offers fully furnished office spaces with quality amenities. They've got an outside patio, bike rooms, CCTV, high-speed internet, and their cafeteria offers organic coffee. Green Desk promotes sustainability and they have also taken several measures to make their offices environmental-friendly. At Green Desk, you've got CFL and LED lights which are energy efficient and they also use green office and cleaning products. Moreover, they use renewable and traditional lighting sources, as well as recycled glasses and aluminum to renovate their building.
Green Desk promotes sustainability and has taken several measures to incorporate it into its workspace. They have installed motion-sensing CFL and LED lights which are energy efficient and use green office and cleaning products. Green Desk Coworking Spaces utilize renewable and traditional lighting sources, and they use recycled glasses and aluminum to renovate their buildings.
Member fees start at $29 per day, and they've got weekly charges at $75, and monthly charges at $1150. You can also get a dedicated desk which costs $199 a month. If you want to get an office, the starting price is $250. You can also rent their event spaces, such as the conference hall, and they also have shop spaces.
Address: 155 Water St, Brooklyn, NY 11201
6. The Commons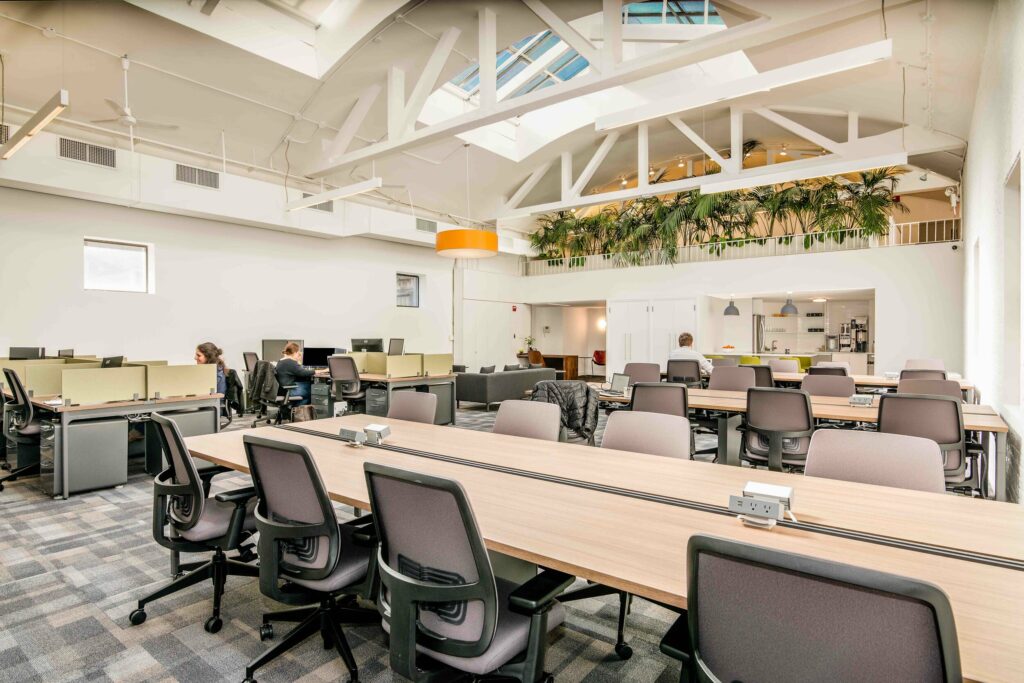 Here's another great coworking space Manhattan hosts, The Commons. When you're looking for NYC coworking space, but anywhere really, your choice must be made based on what work you're doing. In the end, you must try different coworking space New York City offers in order to find your perfect match. The Commons is set on the Upper East Side, which is one of my favorite places in Manhattan.
This is a great place for small businesses, and it's a community-focused coworking space that has partnerships with local companies, that can bring many opportunities for your business. The Commons is in the converted Yorkville Theater building, which comes with beautiful interiors and architecture, a skylight, and high ceilings.
At The Commons, you've got height-adjustable desks, printing service, a kitchen, Wifi obviously, La Colombe coffee, meeting rooms and so. You can also benefit from their night and weekend access, therapy rooms, and full-time therapy offices if you're a therapist. Membership with a day pass comes at $35, the monthly is $195/month, while dedicated desks start at $525 and private offices at $825.
Address: 157 East 86th Street, 4th Floor, New York, 10028.
7. Galvanize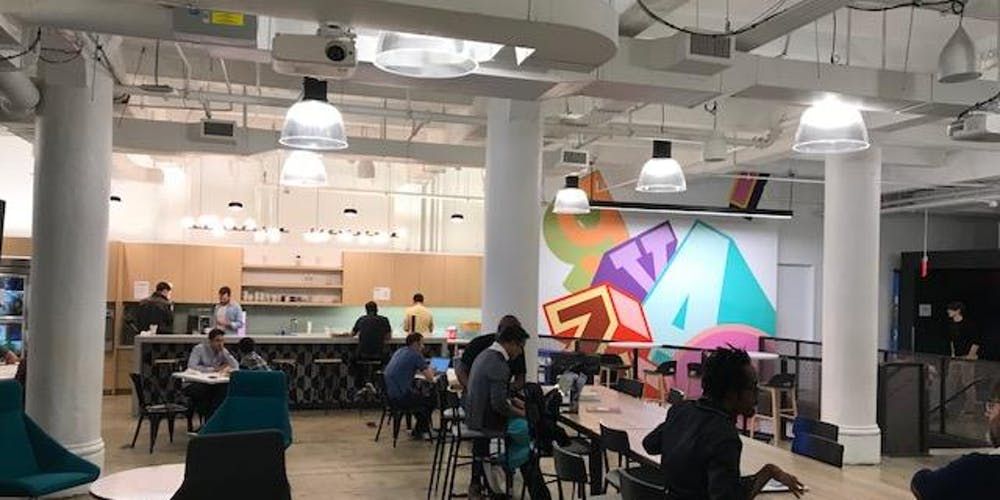 Still didn't find your perfect coworking space NYC hosts? No worries then, we've got you another place for coworking Manhattan, the Galvanize. We know deciding between one or another coworking space in NYC can be difficult, so we wanted to make sure you know all your options. Galvanize opened the 9th campus in the West SoHo area where you've got 6000 feet of co-workspace out of 55000 square feet of the total capacity.
The campus of Galvanize offers the basics, such as Wifi, a community kitchen, but also onsite staff, complimentary coffee, free printing, and workshop and mentor programs. Galvanize offers a business, educational, and networking training hub for tech entrepreneurs too. This is a space where you can get your tech ventures to another level since many tech entrepreneurs are right at the hub. On top of that, major tech companies host partnerships and events here many times, like the IBM's Bluemix Garage Innovation lab launch.
8. Convene – 5th Avenue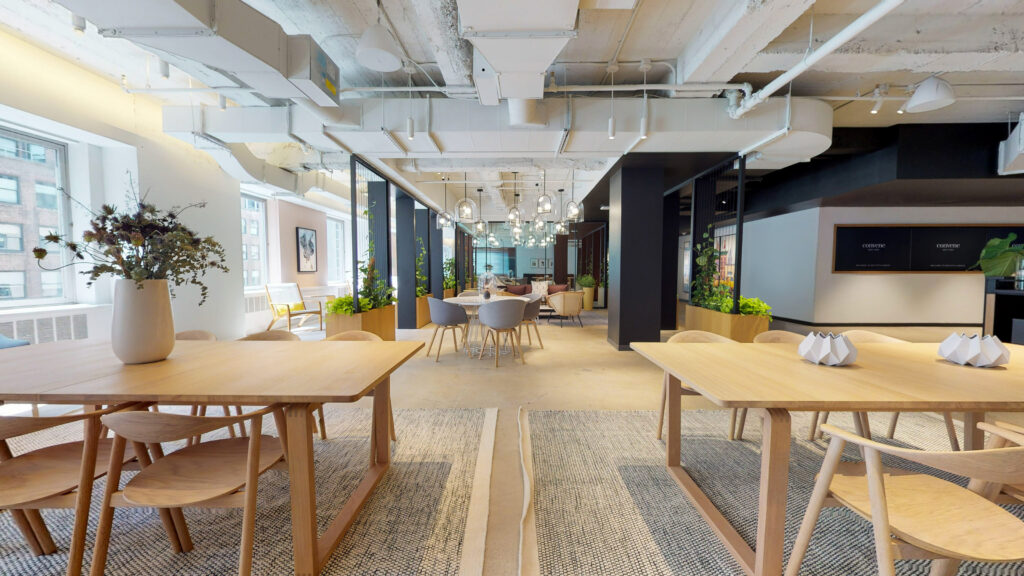 If you have a thing for 5th Avenue as we do, you might want to check out one of the best coworking spaces NYC offers: Convene – 5th Avenue. This is one of the best coworking space New York City hosts, and there are many reasons for this. First of all, Convene – 5th Avenue is the location itself. This NYC coworking space is located between Bryant Park and Grand Central.
It's actually 2 blocks away from Bryant Park. Convene is an upgraded place that offers plenty of space, single desks, meeting, and conference rooms, shared desks, and event rooms. Moreover, the interior design is just exquisite, and it's a perfect go-to workspace for entrepreneurs, startuppers, and freelancers.
There's a 5-star culinary program in-house. This basically means that you can host fancy events, team lunches, and meetings with clients here. The membership at Convene – 5th Avenue is $700/month for an individual, but of course, there are upgrades for this price, depending on what your business needs.
Address: 530 5th Ave, New York, NY 10036
9. Beewake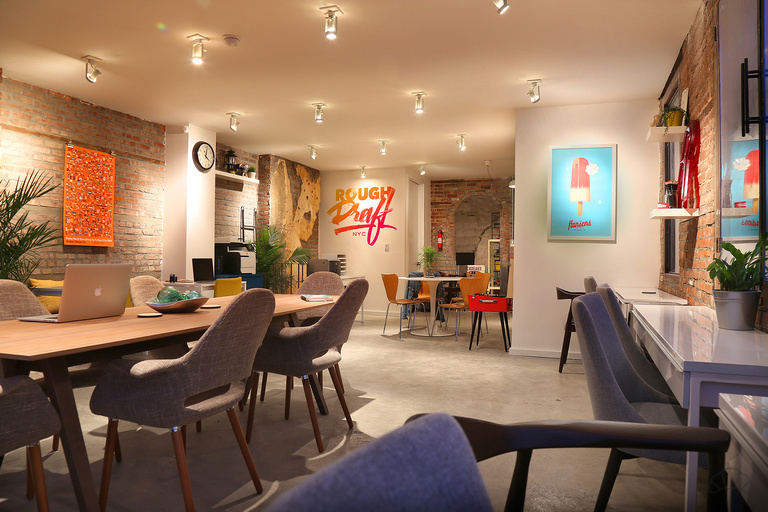 We are almost at the end of our list of spaces for coworking NYC, so let's talk about a really cute coworking space New York hosts, Beewake. As we've mentioned plenty of times before, coworking space in NYC must be chosen based on your style, expectations, budget, and the field you are working in. Not to mention also the location, since I don't think any of you started coworking to have to travel 2 hours to work.
Beewake is a really nice, lively, energetic place. Their Manhattan locations offer private offices, dedicated desks, and conference rooms as well. Beewake has a great ecosystem, with a stimulating environment that inspires you every day to keep going. On side of the Wifi, coffee, tea, microwave, natural light, and parking spots, you also have a phone booth, and copy & printing facility. On top of that, their booking offers and memberships are really flexible, which makes it amazing for last-minute bookings too.
Location 1: 226 W 52nd St, New York, NY 10036, United States
Location 2: 226 W 52nd St, New York, NY 10036, United States
10. Blender Workspace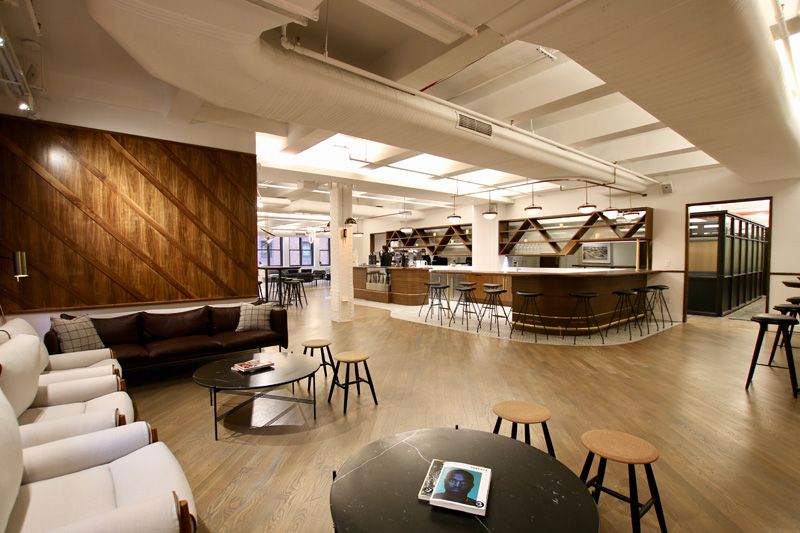 The last on our coworking space Manhattan list is Blender Workspace. When you're looking for coworking Manhattan which is large, and it's also a coworking space midtown manhattan, Blender is for you! The coworking space in New York City was established in 2017 with the goal to make coworking more accessible for entrepreneurs, bloggers, freelancers, and remote workers.
At Blender, you get private offices, shared office space, dedicated desks, and even virtual office service. The stunning interior design was created by Parts And Labor Design, and it's inspired by a mid-century modern style. Now, at Blender, you also have lounge areas, meeting rooms, private bathrooms, a hospitality bar, and a cafe too.
This coworking space organizes music, cultural, and art events that offer a mix of professionalism and art. This also is a great way to make new connections. If you're opting for a day pass, that's $35. Memberships include private and shared office spaces which start at $795/month. If you're looking for something less pricy, the cafe hot desks start at $395/month.
Wrapping up the coworking spaces in Manhattan – coworking NYC
Now that we've discussed which is the best coworking space NYC hosts, and usually speaking, which are the best coworking spaces NYC hosts, we hope you've found your perfect spot! We covered coworking space lower Manhattan, and also coworking space midtown Manhattan, but we also went all the way up to Harlem. When it comes to coworking NYC, there are plenty of places, and coffees to pick from. As you've seen, our first pick was The Farm Soho, but we loved all of these places. Make sure you check the list for coworking spaces in Brooklyn too, and our article for the best coffee shops where you can work from both in Manhattan and Brooklyn.
Pin it: Coworking Space Manhattan – best coworking spaces NYC